Service
-
FAQ
How to copy my data to an other PC?
SiDiary stores all your data in your personal data folder. It is a subfolder in the folder 'Data' with the name you have entered in the program as your patients name, e.g. C:\Users\Your Username\AppData\Local\SiDiary\Data\Doe, John (4-2-1985).
To open this folder quickly please click at the folder button in the menu 'Extras - Backup':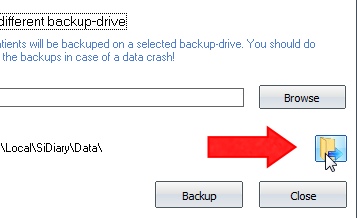 There you can select your personal folder and copy it on an USB-Stick (for example). On the new PC you can open the folder 'Data' in the same way and paste in your personal folder there.